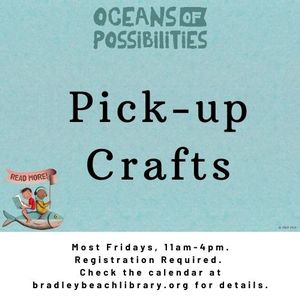 Bradley Beach Public Library
Friday, Aug. 12, 11-4
The ocean is important to the many species of plants and animals that call the water their home. This community of organisms is called an ecosystem. With this activity, learn to make a cool and tasty version of the ocean ecosystem at home!
The kit will provide the geleton mix and candies. You will need scissors, Hot and cold water, Liquid measuring cup, spoon, and access to a refridgerator.
Recommended for children 3+ with adult help.
-
El océano es importante para las muchas especies de plantas y animales que habitan en el agua. A esta comunidad de organismos se le llama ecosistema. ¡Con esta actividad, aprende a hacer una versión fresca y sabrosa del ecosistema marino en casa!
El kit proporcionará la mezcla de geleton y dulces. Necesitará tijeras, agua fría y caliente, taza medidora de líquidos, cuchara y acceso a un refrigerador.
Recomendado para niños a partir de 3 años con ayuda de un adulto.