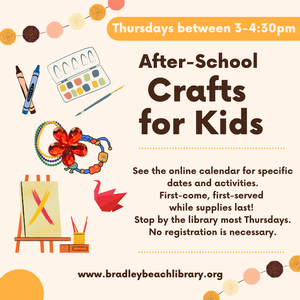 Bradley Beach Public Library
Thursday, May 19, 3:30-4:40pm
See the online calendar for specific dates and activities.
First-come, first-served while supplies last!
Stop by the library most Thursday 3-4:30pm.
No registration is necessary.
April 14: Kindness Rocks (or shells). Using aryclic paints. Best for 5+
April 21: Coffee Filter Flowers. Using food coloring. Best for 5+
April 28: Tissue Paper Flower Pot (good Mother's Day gift). Best for 4+
May 5: Button Collages. Best for 3+
May 12: Paper Mobile. Best for 6+
May 19: Straw Mobile. Best for 5+ (last one of school year).
-
Consulte el calendario en línea para fechas y actividades específicas.
¡Primero en llegar, primero en servir hasta agotar existencias!
Pase por la biblioteca la mayoría de los jueves de 3 a 4:30 p. m.
No es necesario registrarse.
14 de abril: Kindness Rocks (o conchas). Uso de pinturas acrílicas. Mejor para 5+
21 de abril: Flores de filtro de café. Uso de colorante alimentario. Mejor para 5+
28 de abril: Maceta de papel de seda (buen regalo del Día de la Madre). Mejor para 4+
5 de mayo: Collages de botones. Mejor para 3+
12 de mayo: Móvil de Papel. Mejor para 6+
19 de mayo: Paja Móvil. Mejor para 5+ (último del año escolar).