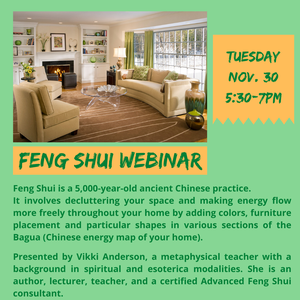 Bradley Beach Public Library
Tuesday, Nov. 30, 6:00pm
Feng Shui is a 5,000-year-old ancient Chinese practice.
It involves decluttering your space and making energy flow more freely throughout your home by adding colors, furniture placement and particular shapes in various sections of the Bagua (Chinese energy map of your home).
Presented by Vikki Anderson, a metaphysical teacher with a background in spiritual and esoterica modalities. She is an author, lecturer, teacher, and is a certified Advanced Feng Shui consultant.
-
El Feng Shui es una antigua práctica china de 5.000 años de antigüedad.
Implica ordenar su espacio y hacer que la energía fluya más libremente por su hogar agregando colores, colocación de muebles y formas particulares en varias secciones del Bagua (mapa energético chino de su hogar).

Presentado por Vikki Anderson, maestra metafísica con experiencia en modalidades espirituales y esotéricas. Es autora, conferencista, profesora y consultora certificada de Feng Shui avanzado.