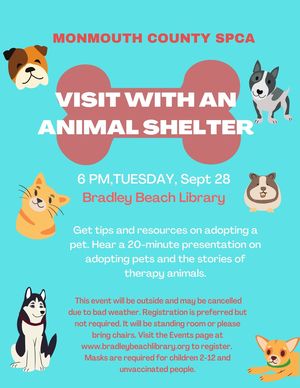 Bradley Beach Public Library
Tuesday, Sep. 28, 6:00pm
MONMOUTH COUNTY SPCA
6:00 PM
TUESDAY, September 28
Bradley Beach Library
Get tips & resources on adopting a pet.
See & hear the stories of therapy animals.
Event will be outside and may be cancelled due to weather. It is standing-room only please bring chairs or blankets if desired.
Registration is preferred but not required.
Register at Events at bradleybeachlibrary.org.
-
6:00 p. M.
MARTES 28 de septiembre
Biblioteca de Bradley Beach
Obtenga consejos y recursos sobre la adopción de una mascota.
Vea y escuche las historias de los animales de terapia.
El evento será al aire libre y puede cancelarse debido al clima. Es solo para estar de pie, por favor traiga sillas o mantas si lo desea.
Se prefiere el registro, pero no es obligatorio.
Regístrese en Eventos en bradleybeachlibrary.org.
Se requieren máscaras para niños de 2 a 12 años y personas no vacunadas.
Masks are required for children 2-12 and unvaccinated people.