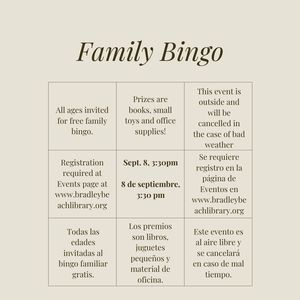 Bradley Beach Public Library
Wednesday, Sep. 8, 3:30pm
All ages invited for free family bingo.
Prizes are books, small toys and office supplies!
This event is outside and will be cancelled in the case of bad weather.
Registration required at Events page at www.bradleybeachlibrary.org.
-
Todas las edades invitadas al bingo familiar gratis.
Los premios son libros, juguetes pequeños y material de oficina.
Este evento es al aire libre y se cancelará en caso de mal tiempo.
Se requiere registro en la página de Eventos en www.bradleybeachlibrary.org.