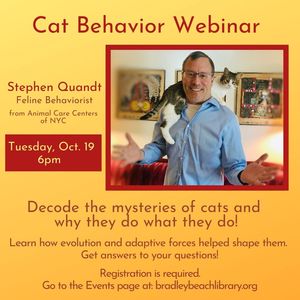 Bradley Beach Public Library
Tuesday, Oct. 19, 6:00pm
Presented by Stephen Quandt, Feline Behaviorist from Animal Care Centers of NYC.

Decode the mysteries of cats and why they do what they do!

Learn how evolution and adaptive forces helped shape them. Get answers to your questions!
Registration is required.

Go to the Events page at: bradleybeachlibrary.org
-
Presentado por Stephen Quandt, conductista felino de Animal Care Centers of NYC.

¡Descifra los misterios de los gatos y por qué hacen lo que hacen!

Descubra cómo la evolución y las fuerzas de adaptación ayudaron a darles forma. ¡Obtenga respuestas a sus preguntas!