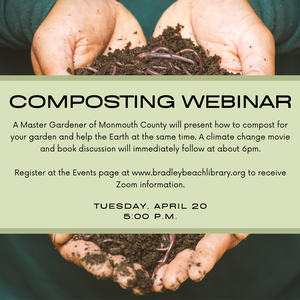 Bradley Beach Public Library
Tuesday, Apr. 20, 5:00pm

Tuesday, April 20, 5pm

A Master Gardener of Monmouth County will present how to compost for your garden and help the Earth at the same time. A climate change movie and book discussion will immediately follow at about 6pm.
Register at the Events page at www.bradleybeachlibrary.org to receive Zoom information.