Burlington Public Library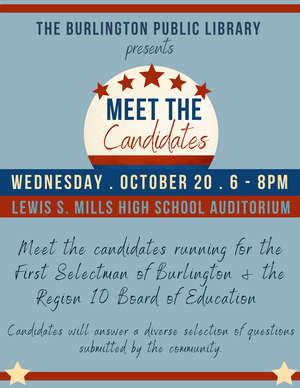 34 Library Lane
Wednesday, Oct. 20, 6:00 PM
The Burlington Public Library will be hosting a Meet the Candidates evening at Lewis Mills High School. Residents will have a chance to hear from candidates running for Region 10 Board of Ed openings as well as for First Selectman.

This event will be moderated by James Drzewiecki from The Bristol Press. He will be asking questions that have been submitted by the residents of Burlington.

This event will be recorded and aired by NutmegTV. A link to the event will be provided by Nutmeg and we will share on our Facebook page when available.