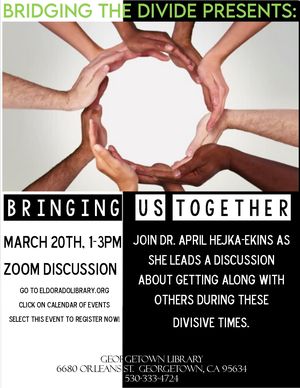 GT- Bridging the Divide: Bringing us Together
Zoom meeting
Saturday, Mar. 20, 1:00-3:00 pm
Have you felt that you would like to overcome some of the divisions we see in our community? Would you like to learn how to talk to others with kindness and respect? Join Dr. April Hejka-Ekins for our latest "Bridging the Divide" event as we explore how to communicate with people of differing views so we may come together for common community concerns. She will lead a discussion about getting along with others during this divisive time and present useful communication tools that we may all use when interacting with others.
Dr, Hejka-Ekins is a retired professor emeritus from CSU Stanislaus where she taught and directed the Graduate Program in Public Administration for 30 years. Previously she earned a MSW and has extensive experience as a Therapist, Group Work Counselor, Community Organizer, Organizational Development Consultant and Trainer to Human Service Organizations.
Sponsored by Georgetown Friends of the Library.