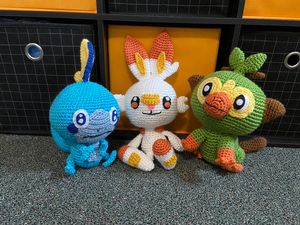 Crochet n' Things
CSCL Program Room
Wednesday, Dec. 8, 5:00-6:00
Join us for Crochet n' Things!
This is an intergenerational program, starting at ages 13 and up! Crocheters and knitters of all skills are welcome, including those who have never done it before. Finley will be there to teach you crochet or new techniques!
Craft together or learn new things like: amigurumi (crocheted plushies), star blankets, Christmas ornaments, fingerless gloves, scarves, hats, and more! The cold weather is upon us and we need to get bundled up in yarn items that you've made yourself! Adults who enjoy crochet or are interested in learning are encouraged to join. This program meets when the library is closed. Use the doors in the back of the library to enter into the CSCL Program Room.