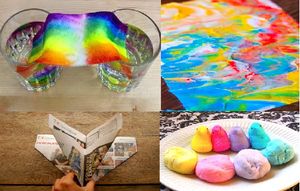 Climate Conscious: Courtyard Creations - Sharpsburg
CSCL Sharpsburg Branch
Thursday, Apr. 8, 4:30-5:30 (Thursdays, 4:30-5:30)
Make something with Ms. Erin in our courtyard! Every week, we'll have a mix of STEM and art activities for school age children (K-5).
4/8: Magic Rainbow Paper Towels
4/15: Shaving Cream Painting
4/22: Origami Seed Pots
4/29: Peeps Playdough
Limit of 10 participants.
Registration recommended
.
Masks required for anyone over age 2. This is an outdoor program.
If there is inclement weather, it will be canceled. Check the weather forecast or call the library.
This program is part of a 2021 Climate Conscious Series sponsored by
The Fox Chapel Garden Club!