Events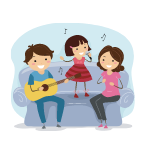 Sing Your Story
Killingly Public Library
Saturday, Feb. 6, 10:00 AM

Every child has a story. Every story is a song. SING YOUR STORY is an educational music experience where kids ages 6 to 11 become songwriters! This hour long Zoom session will involve children brainstorming to create their own song and there will even be a professional recording for the participants to share!

SING YOUR STORY, creator, Michele Urban, is an Early Childhood Music specialist, songwriter and vocal performer. She combines music and language instruction to help kids tell their story through song lyrics and then brings their imagination to the microphone.

Registration for this special event is limited so register early! We will send you a Zoom link to attend this virtual program.

Another great event that is sponsored by The Friends of the Killingly Library and The Connecticut Humanities Council!