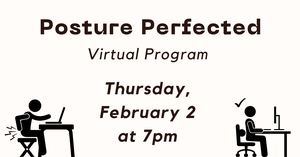 Thursday, Feb. 2, 7-8pm
Like a handwriting signature, our posture is established and reinforced from an early age. Poor posture causes back, neck and wrist pain. Everyone can learn to improve their posture with re-education of habitual postures and by working your body correctly. Join fitness teacher Roberta Bergman to improve your posture while standing, sitting, walking, working and sports!

Roberta Bergman, M.S. Dance/Movement Therapy is an ACE Certified Group Fitness and Water Exercise Instructor. Ms. Bergman is also a public speaker specializing in healing back and neck pain through exercise and healthy lifestyles.
Registration required for zoom link.

For more informaton about Roberta Bergman, visit www.bodyformula.com.