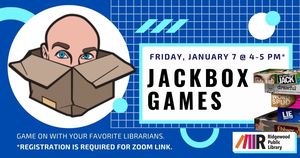 Ridgewood Public Library
Friday, Dec. 3, 4:00pm-5:00pm (Fridays, Dec. 3, Jan. 7 *VIRTUAL* & Feb. 4, 4:00pm-5:00pm)
January 7, Session VIRTUAL: Spend an afternoon with your favorite librarians and challenge us to some fun Jackbox Games.
Instructions on how to play with us:
Join the Zoom meeting (link will be emailed the day of program) on your laptop or desktop computer (Zoom account not required).

Next please visit: Jackbox.tv on your mobile device. We will share the unique Jackbox game code during our Zoom meeting.

Watch the questions displayed on your computer/laptop and answer with your mobile device.
Registration required for all sessions. For teen in 6-12 grade ONLY. (Zoom meeting link will be provided after registration and the day of the program).
Sponsored by The Friends of the Library .