Cora J. Belden Library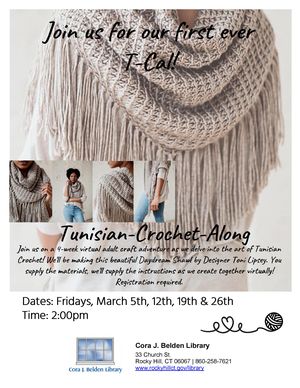 Online - Zoom
Friday, Mar. 5, 2:00pm (Fridays, March 5, 12, 19 & 26)
Get your supplies ready far in advance, the pandemic has created crafting supplies shortages as well as shipping delays!
Please don't hesitate to contact me @: cgreene@rockyhillct.gov should you have any questions or concerns.

You will need:
1) The Daydream Shawl Pattern...a free print out of free version of the DayDream Shawl Pattern is available at the Cora J. Library reference desk. (OR) you can copy & paste it from the designer's website and print it yourself at home @:https://tlycblog.com/daydreamshawl. You can pay to download the prettier PDF version onto your computer from her website, or on Ravelry @ https://www.ravelry.com/patterns/library/daydream-shawl-2 Toni Lipsey is the designer.
2) Yarn (see pattern or Ravelry for recommendations) The pattern calls for 450-550 yards of aran weight yarn. Lion Brand Heartland is very popular for this pattern. I suggest a solid rather than variegated yarn. Make sure you purchase enough yarn and remember to match the dye lot!
3) Tunisian Crochet Hook w/cord (see pattern or Ravelry for size and length). The pattern calls for Tunisian Hook size "L". I suggest a cord length of no less than 32" (if you have that on hand) but 40" would be preferable.
4) Moveable Stitch Marker or a large safety pin
5) Scissors
6) Yarn Needle, large-eye (plastic or metal are fine, you can find these at Joanns or Michael or any craft store,
even Walmart)
7) Hardcover Book to wrap the yarn around (for making the fringe). Larger book = Longer fringe
Supplies listed below are for blocking your finished piece. Blocking is very important, it is what will help turn your caterpiller shawl into a beautiful butterfly!
8) T-pins for blocking finished work
9) Blocking boards for blocking finished work (if you don't have a large, neutral colored rug and several large neutral colored towels)
10) Spray bottle or steaming iron for blocking finished work (to mist your finished work)

Please watch the video link I have provided here: https://www.youtube.com/watch?v=-Cv0SaYsY5Y, so that you familiarize yourself with the terms, the motions and how it looks.Trust me, it will be worth the effort if you look at her video several times before we begin.
Sponsored by Friends of the Cora J. Belden Library.