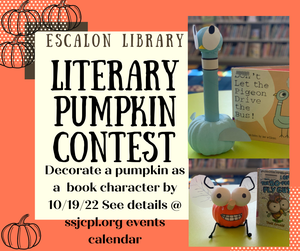 Friday, Oct. 7, during open hours
Stop by the Escalon library and pick up a foam pumpkin (or you may use any pumpkin or multiple pumpkins) and turn your pumpkin into a book character! You may use any supplies of your choosing and create any literary character. Enjoy the project as a family or on your own. You may also create your charcter in the library using what supplies we have available. Finished pumpkins are due back by 10/19/22
to be entered into voting and a chance to win a modest prize.
Sponsored by Escalon Library.