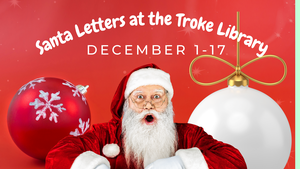 Troke Branch Library
Friday, Dec. 17, During Open Hours
The Troke Library is a drop off site for letters to Santa! Come to the library beginning December 1, and pick up a postcard, write your letter to Santa and color it if you wish.

When the postcard is complete, mail it in our special Christmas mailbox located in the Children's area, so the letters get to Santa before Christmas. Please be sure your address is written correctly and neatly as Santa may be able to write back to you.

The final day to drop off is December 17.