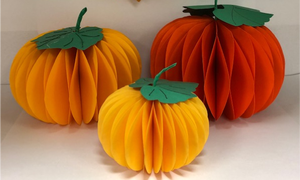 Cesar Chavez Central Library
Tuesday, Oct. 19, 4:30 PM
Tweens & Teens,
Interested in craft? Join our virtual craft program on
Thursday, October 19 at 4:30 PM
on the Microsoft Teams and learn how to
make a 3D paper pumpkin
. Anyone ages 10 and older is invited to register for the event. Registration is required and will begin on October 1, 2021. Craft materials are provided to patrons who register for the event and will be available for pickup at the Chavez Reference Desk. Also, participants must provide a valid email to receive invitation to join the event.
If the weather permits, this event will be held outdoor outside the Children area, in the court yard.
Tools needed for this event
:
Elmer glue & a black marker