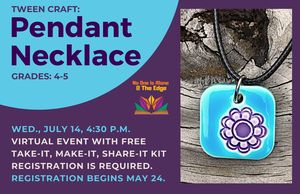 Wednesday, Jul. 14, 4:30-6:00 p.m.
Tweens: Pendant Necklace
Wed., July 14
4:30 p.m.
Virtual Program with Take-it, Make-it, Share-it Kits
Grades 4-5
Registration Required
Free
www.myfcpl.org/virtual-teen-crafts
Be creative, be stylish, be beautiful! Paint your own unique necklace.
This is a free virtual program, open only to students grades 4-5. Tutorials will be posted on the Library YouTube channel. Registration is required to recieve a kit. We will call when kits are available for pick up at the Teen Desk.