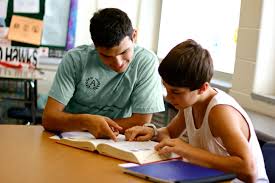 Total Tutoring
Sayreville Public Library
Monday, May. 7, 4:30-6:30PM (Mondays (unless otherwise noted), 4:30-6:30PM)
Total Tutoring @ the
Sayreville Public Library
Is your child struggling in school? Are other tutoring centers not working? Then join Total Tutoring today! It is run by high school students who want to give back to the community by helping our future leaders excel.
Tutoring is available for students in grades K-10
in math, science, English, history and world language. No registration necessary, but please arrive at the beginning of the session.
All students must bring their own school materials to sessions.
This is a volunteer organization, so sessions are completely free of charge.
Please note: For more information and to register, visit www.totaltutoringnj.com or facebook.com/totaltutoringK122.
For general questions, please call 732-727-0212, ext. 26.