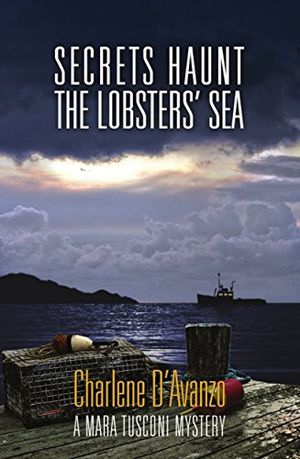 Freeport Community Library
Wednesday, Nov. 20, 6:30-7:30PM
Join us on Wednesday, November 20 at Freeport Community Library for an Author Talk with Charlene D'Avanzo. Charlene is a retired marine ecologist and award-winning environmental educator and author who turned to writing mysteries in the emerging "cli-fi" genre to help people better understand climate change in the context of a fast-paced, exciting story. Her Mara Tusconi Maine Oceanographer series features a female oceanographer turned sleuth, who uses a sea kayak and scientific knowledge to solve crime. She was inspired to start the series when a famous scientist described tactics climate change deniers used to harass him. Charlene, who lives in Yarmouth, Maine, is an avid sea kayaker and weaves her misadventures on the water into her stories. The talk will run 6:30-7:30PM, and is free and open to the public. Books will be available to interested parties.

Cold Blood, Hot Sea (2016)

A scientist is killed aboard an oceanographic research vessel and Mara Tusconi thinks it's no accident. She's quickly entangled in a scheme cooked up by powerful energy executives with much to lose by global warming studies. Mara's career — and life — are on the line, threatened by an intrigue as big and dark as the ocean's.

Demon Spirit, Devil Sea (2017)

When the U.N. sends Mara Tusconi to Haida Gwaii off British Columbia, she's thrilled. The archipelago is both a spectacular rainforest and sea kayak destination. But as she untangles a climate change crime, Mara confronts the Haida Nation's mistrust of outsiders like her, spiteful spirits that aren't suppose to exist, and a baffling death. An Independent Book Publishers (IPPY) Award Winner.

Secrets Haunt the Lobsters' Sea (2018)

When a lobsterman's body is found under Gordy's aquaculture raft, Mara Tusconi's cousin Gordy is the number one suspect. But to investigate, Mara must visit Macomek Island, Maine's wild-wild west where lobstermen practice their own rule of law. Author Paul Doiron writes: "Charlene D'Avanzo is a natural storyteller and a passionate scientist, and she brings both aspects of her self to her third novel, Secrets Haunt the Lobsters' Sea. Even Maine natives will find themselves gaining insights into the secret lives of lobsters, as well as the rough-and-tumble nature of the state's signature fishery. All readers will be swept along by oceanographer Mara Tusconi's suspenseful quest to determine who murdered lobsterman Buddy Crawford and, more importantly, why."

For questions or directions to the Library, call 865-3307 or visit freeportlibrary.com.