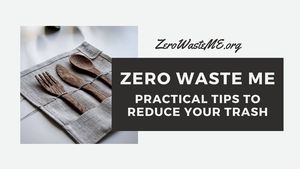 Freeport Community Library
Wednesday, Oct. 16, 6:30-7:30PM
The average American produces 4.4 pounds of trash every single day, leaving a legacy of about 90,000 pounds of trash over the course of a lifetime.

Join Julie Olson and Suzanne Balbo of Zero Waste ME for a fun and engaging discussion of how you can reduce the amount of trash your produce. You'll leave with a new perspective and with a bounty of practical tips that you can put into immediate practice, in the process saving your health, your wallet, and the planet.

For more information about this event or about Zero Waste ME, contact us at zerowastemaine@gmail.com.

This event is free and open to the public. For questions or directions to the library, please call 865-3307 or visit freeportlibrary.com.