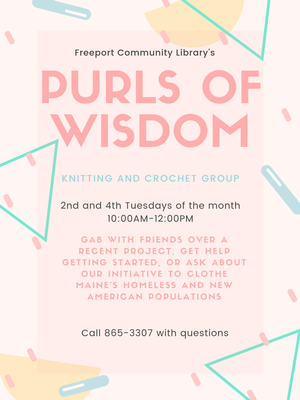 Freeport Community Library
Tuesday, Nov. 26, 10:00AM-12:00PM
A casual knitting and crochet group. Gab with friends over a recent project, get help getting started, or ask about our initiative to clothe Maine's homeless and New American populations! Please note we may have a few materials for beginners to practice with but participants should bring their own supplies. We will have a few select patterns available for copying, and participants can copy the pattern they're working on for free.

Knitting for Charity: Some Tips!

**Yarn fiber** Wool insulates and is fire-repellent, but if it isn't labeled "superwash" (aka won't shrink in the wash), then it might be more trouble than it's worth. Acrylic blends on the softer side are a good choice; do as every knitter does and test it by rubbing it on your cheek!

**Color choice** Gender neutral colors are best, since they can be handed out indiscriminately. Bright colors for adults may attract unwanted attention. Also, darker colors don't show dirt.

**Pattern selection** Lean toward making hats, mittens, scarves, and socks; blankets are amazing gifts, but if they are cumbersome, it is more likely they will be left behind. Knitting with yarn held double (two strands instead of one) thickens the fabric and reduces air holes, but keep in mind that it may also affect your sizing.

This event is free and open to the public. For questions or directions to the Library, call 865-3307 or visit freeportlibrary.com.