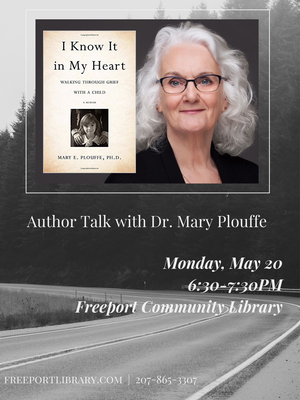 Freeport Community Library
Monday, May 20, 6:30-7:30PM
How does one learn to move through the world after exceptional loss? Dr. Mary Plouffe is propelled on a journey to find out in the aftermath of losing her sister and caring for a three-year-old niece. I Know it in My Heart: Walking Through Grief with a Child is a 2018 Book of the Year through Independent Publishers of New England Book Awards and 2018 Maine Literary Award Finalist.

Books will be available for purchase through the author for interested parties (cash or check).

This event is free and open to the public. For questions or directions to the library, call 865-3307 or visit freeportlibrary.com.