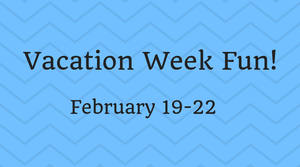 Freeport Community Library
Tuesday, Feb. 19, (February 19, 20, 21, 22)
February vacation week at Freeport Community Library will be full of activities!
Tuesday, February 19, our Maker Cart will be out from 1:00-3:00. (Ages 4 and up)
Wednesday, February 20, LEGO Club will meet from 3:45-4:45. (Ages 5-11)
Thursday, February 21, Crafting Stories with Ali is from 10:30-11:00. (Ages 3-5)
Friday, February 22, come join us for an animated PG lunchtime movie from Noon to 2:00. Bring your own lunch and enjoy it while you watch the movie! (Family Event)

Adult supervision required for children under 11.

For directions to the library, or to view its business hours, call 865-3307 or visit www.freeportlibrary.com.