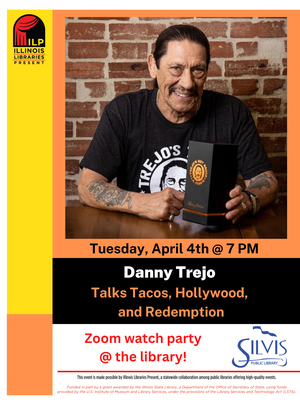 Silvis Public Library
Tuesday, Apr. 4, 7 PM
**This is a live virtual watch party at the library. We'll be watching a live broadcast on Zoom. If you can't make it to the library that evening, go to bit.ly/ILP_DannyTrejo for a remote registration code.

Danny Trejo is April's featured guest of Illinois Libraries Present, and the Silvis Public Library is is hosting a special watch party.

Actor/Author/Restaurateur Danny Trejo will discuss his prolific career after a hard-earned and atypical road to success. From years of imprisonment to helping troubled youth and adults battle addiction, from acting to producing, and now on to restaurant ventures, Trejo's name, face, and achievements are well recognized in Hollywood and beyond. But it is his continuous role as a devoted father of three and an intervention counselor that bring him the most satisfaction.

Join us at the library to learn about this fascinating man! We'll provide the refreshments, including nachos.

Register with us and arrive at 6:45pm to get set up with refreshments before the live talk on Zoom begins.

This event is made possible by Illinois Libraries Present, a statewide collaboration among public libraries offering premier events.
Sponsored by Illinois Libraries Present.