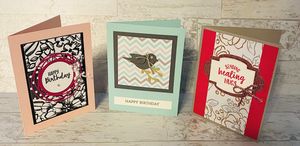 Millbrook
Saturday, Jan. 30,
Adults can pick up a craft kit and make three kinds of greeting cards! The kits are created by instructor Theresa Stufano of TheresaStamps4Joy.

The kits include precut cardstock, embellishments, and envelopes. They do not include stamps, ink, and adhesives.

An instructional video will be sent out to all who register. Kits can be picked up at the Millbrook Library through curbside pickup starting on January 11. Please call us to schedule a pickup time.