Millbrook Library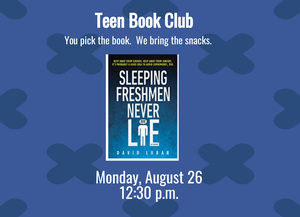 Millbrook
Monday, Aug. 26, 12:30 pm -2:00 pm
TEENS....COME JOIN US!!! Our last teen book club was an interactive blast. This month's book is Sleeping Freshmen Never Lie. We will have a group discussion on the book, get to know one another, and learn fun facts that are topic-specific.

You bring the book and we will provide the snacks.
Sponsored by Millbrook.