Join us for upcoming events and programs within the Wharton County Library System! All events are free and open to the public.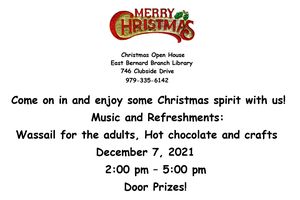 East Bernard Branch
Tuesday, Dec. 7, 2:00pm - 5:00pm
The East Bernard Branch Library is hosting an open house Tuesday, December 7, 2021 from 2:00pm until 5:00pm.

Come on in for some Christmas spirit and enjoy music, refreshments and crafts.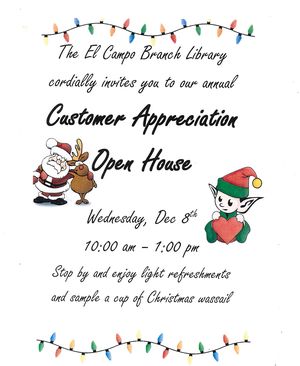 El Campo Branch
Wednesday, Dec. 8, 10:00am - 1:00pm
The El Campo Branch Library is hosting their annual Customer Appreciation Open House Wednesday, December 8, 2021 from 10:00am until 1:00pm.

Stop by and enjoy light refreshments and sample a cup of Christmas Wassail.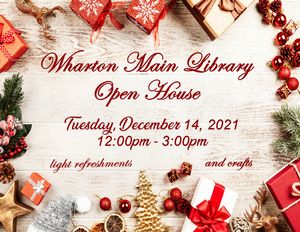 Wharton (Main Branch)
Tuesday, Dec. 14, 12:00pm - 3:00pm
Wharton Main Library is hosting their Christmas open house on Tuesday, December 14 from 12 pm until 3 pm.

Stop by for a visit, light refreshments, and crafts.