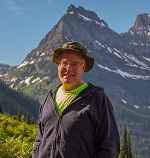 Bruce Barlow exhibit of photographs taken on his cross-country road trip
Freeport Community Library
Thursday, Jun. 1,
Bruce Barlow traveled the country in 2013, living in a Chevy Express cargo van, his belongings and a mattress in the back. Known as "The Bucket Trip," since it was first on his bucket list, he also called it being "Adrift," with no schedule or route. "A destination gets in the way of freedom," he says, "And being lost is underrated." He studiously avoided Interstate highways, and kept to the little back roads. "Even 2-lane US Highways lose character," he observes. "Stick to the state and county roads."
39,583 miles and 42 states later, Bruce had made 14,000 photographs, which he edited down to a mere 3,000. The best of these are on exhibit at the Freeport Community Library during June. "In case you haven't noticed," Bruce says, "America is a special place."
Bruce has been seriously interested in photography since 1984. He has taught photography, and published two how-to books on the subject. Today he works with digital cameras, and cameras using film up to 8"x10". He believes that "selfies" are inspired by Satan, and a Smartphone is not a camera. Bruce cheerfully admits to being a Luddite.