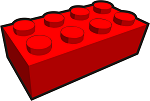 LEGO CLUB!!!
Freeport Community Library
Wednesday, Apr. 5, 3:30-4:30 pm
The FCL LEGO Club will meet in the library Community Room on the first Wednesday of every month from September 2016 through April 2017. No need to sign up, just show up and build (all LEGOs provided).FCL LEGO Club is for children ages 5-11. Children must be accompanied by an adult.