---
The MCPL Blog
News and updates from the Marathon County Public Library.
Subscribe
to receive blog updates by email.
JULY 24, 2016
Cooking with Herbs at Monk Botanical Gardens!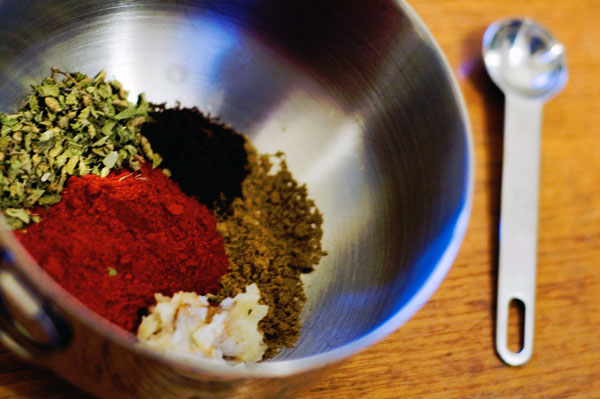 Last month, MCPL partnered with the Monk Botanical Gardens in Wausau to offer a two-part class focused on growing and cooking with your own herbs. During part one of the class, a local Master Gardener volunteer helped folks at our Wausau Headquarters plant their own herb container gardens. A week later, during part two, participants descended upon the Gardens' newly-completed outdoor kitchen garden to learn how to cook with the herbs they planted.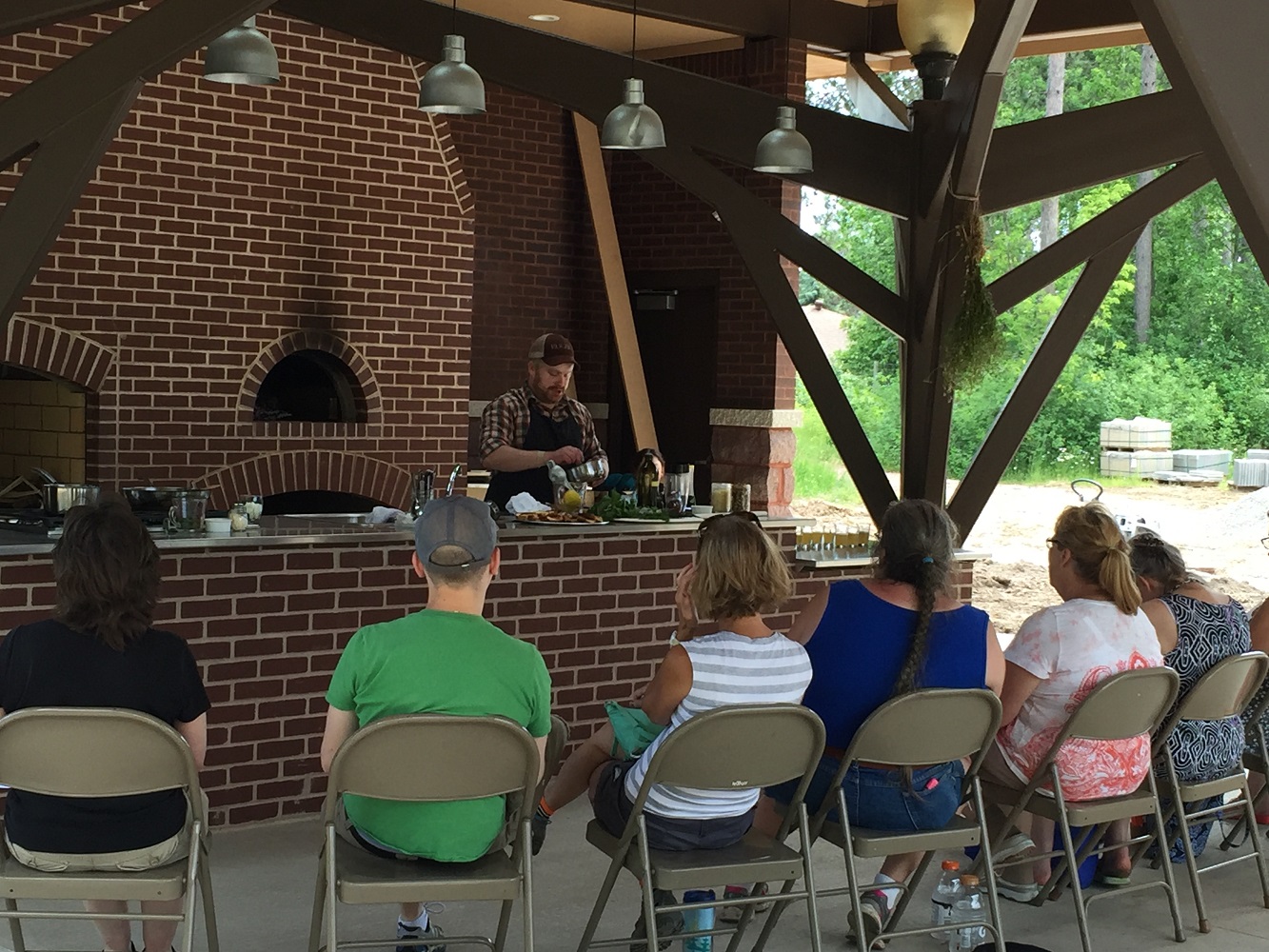 Local chef Brian Freund led part two of the class and taught attendees how to make three different recipes using the herbs that will eventually grow in their container gardens. The first is for chimichurri, a sauce or marinade made from fresh herbs and typically use on grilled meats. The second recipe, basil pesto, is typically served with pasta. The final recipe is for pasta with herb pan sauce.
For anyone who was unable to attend the class, we've included those recipes below. Give the recipes a try, and let us know in the comments how they turned out!
Chimichurri

1/4 cup chopped parsley and/or cilantro
1 TBS. minced garlic
1/4 cup extra virgin olive oil
1/2 like juice
1 tsp. red pepper flakes (adjust to taste)
Salt and pepper to taste
Mix all ingredients together and use immediately.
Basil Pesto

2 cups chopped basil
1 cup chopped walnuts or pine nuts
1 cup grated Parmesan cheese
1 1/2 cup extra virgin olive oil (add to more to thin to desired consistency)
2 gloves minced garlic
Salt and pepper to taste
Combine all ingredients well and serve.
Pasta with Herb Pan Sauce

3 TBS. extra virgin olive oil
1/2 medium yellow onion, chopped
1 tsp. crushed red pepper
2 cloves minced garlic
1 1/2 TBS. herb mix*
1 TBS. unsalted butter
6-8 ounces pasta
1/2 fresh lemon
Grated Parmesan (if desired)
*Herb mix
:
4 parts chopped parsley
2 parts rosemary and oregano
1 part fennel and thyme
Garnish with chives (to desired taste)
If you do not have one or more of these herbs, you may substitute them out for something else you have on-hand
Start cooking pasta in salted boiling water in pot on stovetop. Meanwhile, heat oil on medium-low heat in a large saute pan. Add onion and red pepper flakes to the pan and cook until they start to soften and lighten in color. Add garlic to the pan and cook until the onions are transluscent and the garlic starts to brown.
Add 1 TBS. pasta water (or beer or wine, if desired) to deglaze pan and cook until liquid is evaporated. Turn the heat to low. Add herbs and drained cooked pasta to the pan. Stir to thoroughly incorporate ingredients together in the pan.
Turn off heat and add butter and juice from lemon to the pan. Stir thoroughly to incorporate. Salt and pepper to taste, then serve.
This dish is great for serving alongside grilled or roasted chicken, pork, or Italian sausage. Since pan sauces can vary based on what you have available and on-hand, ingredients can be easily added or substituted. Capers can also be added to the sauce when serving with seafood, or instance, or cream can be added and reduced to make a white sauce.
Categories:
Programs
,
Food
,
Home and Garden
JULY 21, 2016
Keep cool at the library!

With temperatures expected to reach into the 90s this week, local officials are urging residents to protect themselves from heat-related illness.
One way to do that is by coming to the library!
All Marathon County Public Libraries have been designated as official cooling centers
-- places where residents without air conditioning can get relief from the extreme heat. We also will have bottled water available. According to the Marathon County Health Department, most heat-related illnesses involve the elderly, individuals who have chronic illnesses, children, athletes and outdoor workers. To prevent risks from excessive heat, the health department suggests people do the following:
Seek air-conditioning. If your home does not have air-conditioning, seek areas that do-such as libraries, shopping malls, community/senior centers, grocery stores, movie theatres-during the warmest period of the day. If you must stay in a home without air-conditioning, stay on the lowest floor out of the sunshine. Marathon County area libraries are available as cooling centers for persons needing this service.

Avoid strenuous activities. This is particularly true during the hottest time of the day. Individuals who perform strenuous work during the heat of the day are especially at risk.

Wear light-weight, light-colored clothing. Light colors reflect the sun's rays better than dark colors, which absorb the heat. Protect the face and head with a wide-brimmed hat.

Check on family members, neighbors and friends who are vulnerable. Move them to air conditioned places if possible.

Drink plenty of fluids. Increase fluid intake even if you are not thirsty.

Never leave pets or people, especially children and infants, unattended in cars during a heat wave.
If heat risks do occur, cool the body as soon as possible, and call 9-1-1 for symptoms of heat stroke.
For additional health information, contact the Marathon County Health Department at 715-261-1900. For more information on library locations, call 715-261-7200.
Categories:
Libraries
,
Weather
JULY 18, 2016
Library will not host the Children's Museum on its third floor due to structural limitations
With great disappointment, today I announce that the Marathon County Public Library will no longer seek to host the Children's Museum of Marathon County (CMMC) on its third floor. The final report on the weight capacity for the third floor has been completed by FEH Design, and their conclusions for required revisions are too costly to support having a museum occupy that space. This is most unfortunate, as the partnership between the library and CMMC was full of great potential for providing hands on STEM focused and educational experiences throughout our county.
Although we will no longer be co-located, we share the desire to bring a new level of interactive and fun learning to our community. The CMMC will do that, and we'll continue to work with them on cooperative ways for our organizations to bring the STEM focus to Marathon County's youth. taking STEM activities out into our communities. We do still applaud the efforts of the Children's Museum of Marathon County, and we look forward to a productive partnership with them in the future. The CMMC Board of Directors remains optimistic that they will secure a location and remain committed to opening the sought-after children's museum to serve our community. Please join me in giving them your support and encouragement as they continue their quest to bring a world-class children's museum to Marathon County.
Ralph Illick
Director, Marathon County Public Library
For more information, visit the Children's Museum of Marathon County at
www.childrensmuseummarathoncounty.org
.
[[[PROMO]]]
Categories:
Children
,
Director's Report
,
Libraries