---
The MCPL Blog
News and updates from the Marathon County Public Library.
Subscribe
to receive blog updates by email.
JULY 30, 2014
Antiques Appraisal Program...Coming Soon!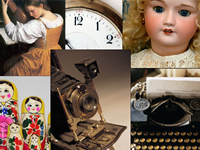 On Sunday September 28th, the Marathon County Public Library will be once again hosting WHAT IT'S WORTH; THE ANTIQUES APPRAISAL PROGRAM!
Antiques expert Mark Moran will be on hand to evaluate and appraise such items as toys, clocks, costume jewelry, artwork, vintage photographs and glassware.
Mark will be available from 1:30 to 4:00 pm. The cost is $10.00 per item. That fee entitles the person to a four-minute consultation. Each additional item is $10.00 and, in turn, another four-minute consult.
Registration is REQUIRED. Call (715) 261-7230 to register or for further information.
If you don't have an item, please come and and sit in on the fun. Spectators are always welcome. See you there!
Category:
Antiques
JULY 28, 2014
Curious about writing or self-publishing?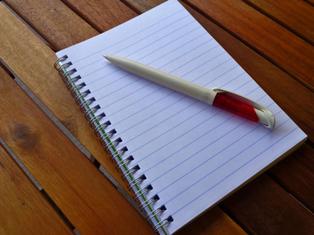 Do you have a few chapters of your first attempt at a novel on your flashdrive or buried in a shoebox in your closet? With the demands of work, family, or school, it might seem impossible to start writing, not to mention finish writing a novel. However, authors
Kourtney Heintz
and
B.C. Kowalski
proved that it can be done, and they will share their experiences with you during these special events at the Marathon County Public Library.
This Thursday, Kourtney Heintz will host a
productive part-time writer workshop
at MCPL Wausau at 6:30 p.m. Heintz wrote two novels while working full-time, and she will share her tips for setting deadlines and managing the distractions of real life.
You may have heard of authors self-publishing their work, but might wonder exactly what that process entails and if it is right for you. Stevens Point-based author B.C. Kowalski will
share his self-publishing experiences
and read excerpts from his first science fiction novel,"Robot Awareness," at MCPL Wausau on August 9th at 2:00 p.m.
Both events do not require advance registration, and are free and open to the public.
Categories:
Books
,
Writing
,
Wisconsin
JULY 24, 2014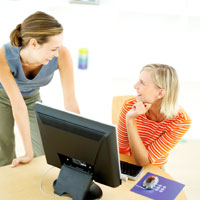 As summer winds down and your thoughts turn to more studious matters (whether you're going back to school or starting a new project), don't forget the library offers these useful resources!
Online databases
Your library card gives you online access to product reviews and comparisons from Consumer Reports, stock reports from Value Line, foreign language learning tools from Mango Languages, repair manuals from the Auto Repair Reference Center, and many other helpful research databases. Visit any of our locations and use one of our public computers or connect to our free Wi-Fi to access these databases at
www.mcpl.us/research
. You can also access most of these databases from home.
Genealogy resources
Research your family history using
Ancestry: Library Edition
and our microfilm collection. Accessible only while you are in the library, Ancestry: Library Edition is a special version of Ancestry.com, a popular subscription-based site which offers access to a large collection of resources about family histories. The Wausau headquarters also offers access to the microfilm records of The Wausau Daily Herald (and the four papers that preceded the Herald) for those looking for obituaries or other articles about their ancestors.
Study rooms and internet access
The library's Wausau headquarters and Marathon City branch have
study rooms
available for nonprofit or educational purposes free of charge. Visit the library or call us with questions about study room availability. All of our locations offer free Wi-Fi and
public computer access
.
www.mcpl.us/research
(
from the MCPL Newsletter, Jul.-Sept., 2014
)
Categories:
Newsletter
,
Genealogy
,
electronic databases
JULY 24, 2014
Beginning this fall, together with our usual literacy offerings, we are incorporating more S.T.E.A.M. into our children's programs!
What's S.T.E.A.M.? It is an approach to education that focuses on science, technology, engineering, art and mathematics by providing kids with lots of hands-on activities and experiments. Each program will be designed to engage the imagination and stimulate the curiosity of our future computer programmers, scientists, mathematicians, artists and engineers.
S.T.E.A.M. Exploration Stations are planned for preschool children (ages 3-5) at 10:30am on the second Wednesday and the following Saturday of each month at our Wausau headquarters. Occasionally, other Preschool Story Times will feature S.T.E.A.M experiments and activities, too.
Additionally, monthly S.T.E.A.M. programs are being planned for school-age children (grades K-5), including events for tweens (grades 3-5) specifically.
We are following national recommendations by expanding our educational opportunities for children and providing additional activities in the fields of science, technology, engineering, art and mathematics. These free programs are intended to be fun, engaging and beneficial for your children as they grow into successful teens and adults.
www.mcpl.us/kids
(
from the MCPL Newsletter, Jul.-Sept., 2014
)
Categories:
Newsletter
,
Children
,
Early Literacy
JULY 23, 2014
Make music with your child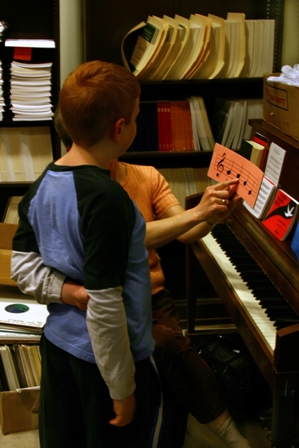 Music has many benefits to children of all ages; it gives children an outlet for expression, it breaks down language so children hear the smaller sounds in words (also known as phonological awareness), and music stimulates brain development in specific areas including language and reasoning. So, what can you do so your child gets the most out of music? Encourage your child to make his or her own music with household items. Play music in your home and encourage your child to sing and dance. And, even if you have a terrible singing voice, sing to your child! Your child will not care what your voice sounds like, just be enthusiastic and expressive. Sing nursery rhymes, make up songs that rhyme together, and even sing books. Check out the booklists below for books that can be sung to children and a list of highly recommended children's music CDS.
Books to Sing
The Seals on the Bus-Lenny Hort
Old McDonald Had a Farm-Jane Cabrera
Five Little Monkeys Jumping on the Bed-Eileen Christelow
My Very First Mother Goose-Iona Opie
Twinkle, Twinkle Little Star-Jane Cabrera
The Itsy Bitsy Spider-Iza Trapani
Recommended CDs
The Best of The Laurie Berkner Band
Toddler Favorites Too!
Baby Beluga by Raffi
Precious Baby
Songs for Wiggleworms
Categories:
Children
,
Early Literacy
,
Parents
JULY 11, 2014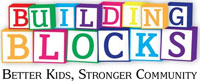 The first 1000 days of a child's life will influence his or her future academic achievement greatly. A child's brain is only about 25% developed at birth and develops to about 85% at age 3, or about 1000 days old. Marathon County's Early Years Coalition is taking proactive steps to ensuring parents have information and support for those first 1000 days so they raise great kids. The Wausau Daily Herald interviewed members of the coalition in the hopes of spreading the word about what parents can do to ensure their child is healthy, safe, ready for school, and great! Check out the links to other episodes and information to see how you can raise a great child in Marathon County.
New episodes will air Fridays until August 15. Visit http://www.wausaudailyherald.com/opinion/ for the latest videos.
Categories:
Early Literacy
,
Children
,
Wausau Daily Herald