---
The MCPL Blog
News and updates from the Marathon County Public Library.
Subscribe
to receive blog updates by email.
JULY 29, 2010
Eagles On Library Shelves
The eagles have landed on your library's shelves. Come and check out these wonderful new books on eagles.

Come and check out these, and the other many "good reads" about the special bond we share with our non-human friends.

Categories:
Reading Recommendations
,
Reading Recommendations
JULY 28, 2010
Congrats to Writing Workshop Winners!
Congratulations to Briah, 6, and Austin, 8, state-level winners in the 2010
PBS Kids Go
Writers Contest. Briah's story, "Barbershop Bella," earned First Place in the Kindergarten Division and has been entered in the national competition. You can see a slide show of Briah's story at this Wisconsin Public Television link:
http://www.wpt.org/kids/writerscontest.cfm
Austin's story, "The Thug Get-Away," earned a Judge's Choice award in the Second Grade Division. Briah and Austin were two of the participants in a 5-week writing workshop at the Marathon County Public Library. The library's writing workshop was funded by a materials grant from Wisconsin Public Television. Thank you to Rachel Cornelius and volunteers Sara Klawitter, Chari Fish and Karyn Powers for their help at the workshops!
Categories:
Writing
,
Children
JULY 22, 2010
Browse & Request Our Newest Books!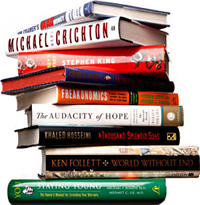 There's more to our collections than what you'll find on the shelves!

Popular books are often in demand (and therefore, unlikely to be found just sitting on the shelf), but you can preview and request most of our new books by using our "New & Forthcoming Books" webpage! www.mcpl.us/catalogs/books

(also accessible from our website's main menu under "Catalogs")

These books represent our most recently-ordered Adult Fiction, Adult Nonfiction, Teen Books, Children's Books, and New York Times Best-Sellers. Many of them haven't even arrived at the Library yet, so it is an excellent opportunity for you to get on the request list ahead of time. Once you're on the request list, we will contact you when the book becomes available for pick-up at the MCPL location of your choice.

(Please note that many of these items will be "On Order" for several weeks (or more) before they are released... so if you're looking for something to read in the immediate future, you might want to browse our current holdings in our Library Catalog (V-Cat).)

The "New & Forthcoming Books" webpage is updated sporadically, so if you're interested in being notified as soon as new books have been added, join the Marathon County Public Library's Facebook Page: www.facebook.com/MCPL.Wausau

Happy Reading!
Categories:
Books
,
Reading Recommendations
,
Websites
JULY 14, 2010
ARRRRR! Craft Day was Splashy Fun!
James and Evie were happy to model the pirate hats, fishbowl necklaces and "fish sticks" that they made at Tuesday's craft afternoon at the Wausau Headquarters library. One hundred fifty kids visited our craft stations, where volunteers helped kids make an array of splashy items to celebrate our "Make a Splash" summer. Thank you, volunteers!

Recording artist Randy Peterson will present a "Beach Party" family concert at the Wausau Headquarters library next Tuesday, July 20, at one show only--2:00 pm. Come and join us for more splashy fun!

Categories:
Children
,
Summer Reading Program
,
Summer Reading Program
JULY 13, 2010
Resumes can aid a job-seeker in getting their foot in the door. Resumes, though, need to be top-notch to get noticed, especially now that some companies are using resume-reading technology to speed resume screening. Here are some helpful resume tips.
When you're working on your resume, use keywords appropriate for the position you're applying for. Read through the position description and jot down words/phrases used in it. Mirror that language in your resume and cover letter.
Use variation of keywords. If you're looking for an accounting position, for example, use 'accountant' and 'accounting' in your resume.
Use keywords correctly and smartly. Don't just list the keywords; use them in complete sentences.
Make your job title generic. If your present job title differs for the job you're applying for, include your present job title in parentheses.
Don't go overboard in listing your job skills; just list key skills.
Folow the directions on the job site that's accepting your resume.
The Library's Career Connection area has many books on resume-writing that can help you turn out a job-winning resume.
JULY 7, 2010
Passport Fees Increase July 13
There has never been a better time to get your U.S. passport. The U. S. Department of State has announced price increases effective July 13, 2010 for Passport Books, Cards, and Passport renewals.

Department of State Fees:
Passport Book for an Adult (age 16 and over)-- from $75.00 to $110.00
Passport Book for a Minor (under age 16)--from $60.00 to $80.00
Passport Card for an Adult (age 16 or over)--from $20.00 to $30.00
Passport Card for a Minor (under age 16)--from $10.00 to $15.00
Acceptance, or Execution fees for first- time applicants are remaining the same--$25.00.

The Library is a Passport Acceptance facility. We can also take your passport pictures for an additional fee of $10.00. Stop in @MCPL Wausau and apply for your passport today before the July 13 increase. Passport applications are processed @MCPL Wausau by certified Passport Acceptance Agents all hours that the library is open.
Category:
Passports
JULY 6, 2010
Sign Up Now for the Talent Show!
We had a blast at last year's talent show! David (pictured here) presented a karate demonstration with Escrima sticks; other kids performed dances, and instrumental and vocal solos. It was so much fun, we have decided to have another Talent Show this year--Tuesday, July 27 at 2:00 pm at the library in Wausau.
I have five acts signed up to perform so far--but we need more! School age children may perform a solo or group act. Performances must be four minutes or less in length, and will be presented to an all-ages audience (toddlers through grandparents). Every performer will receive a "thank you" gift for their participation.
So come on and do your thing--Sing! Dance! Karate! Perform Magic Tricks! Sign up by stopping by the Children's Desk at the Wausau library or call us at 715-261-7220.
Our performers will need an audience, too, so come and cheer on your friends!
Categories:
Children
,
Summer Reading Program
,
Programs