---
The MCPL Blog
News and updates from the Marathon County Public Library.
Subscribe
to receive blog updates by email.
Category: Children
JANUARY 4, 2015
Book Babies Story Time...Revamped!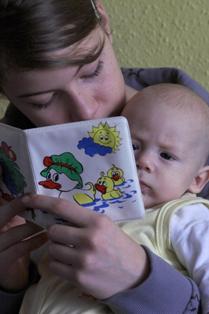 Beginning Monday, January 5, 2015, MCPL is taking a new approach to Book Babies Story time. Story time will begin at 10 a.m., and just like usual, provide 15 minutes of books, songs, and rhymes. But then, parents and babies are encouraged to hang out after and give babies a chance to do some more hands-on exploring, with age-appropriate toys, music, and activities.
This special time afterwards will also give parents and babies time to socialize and connect with each other. We are trying to make story time not just a place to listen to books and songs, but a resource for families to get information and ideas. We hope to make Book Babies story time just as beneficial for the parents as it is for the children.

---