---
The MCPL Blog
News and updates from the Marathon County Public Library.
Subscribe
to receive blog updates by email.
JULY 23, 2014
Make music with your child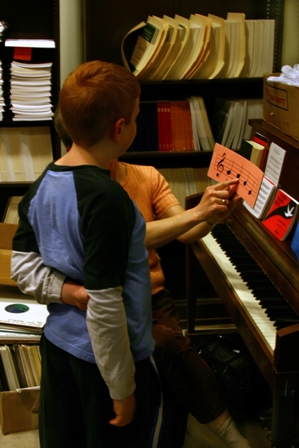 Music has many benefits to children of all ages; it gives children an outlet for expression, it breaks down language so children hear the smaller sounds in words (also known as phonological awareness), and music stimulates brain development in specific areas including language and reasoning. So, what can you do so your child gets the most out of music? Encourage your child to make his or her own music with household items. Play music in your home and encourage your child to sing and dance. And, even if you have a terrible singing voice, sing to your child! Your child will not care what your voice sounds like, just be enthusiastic and expressive. Sing nursery rhymes, make up songs that rhyme together, and even sing books. Check out the booklists below for books that can be sung to children and a list of highly recommended children's music CDS.
Books to Sing
The Seals on the Bus-Lenny Hort
Old McDonald Had a Farm-Jane Cabrera
Five Little Monkeys Jumping on the Bed-Eileen Christelow
My Very First Mother Goose-Iona Opie
Twinkle, Twinkle Little Star-Jane Cabrera
The Itsy Bitsy Spider-Iza Trapani
Recommended CDs
The Best of The Laurie Berkner Band
Toddler Favorites Too!
Baby Beluga by Raffi
Precious Baby
Songs for Wiggleworms