---
The MCPL Blog
News and updates from the Marathon County Public Library.
Subscribe
to receive blog updates by email.
APRIL 23, 2014
Tornado and Severe Weather Awareness Week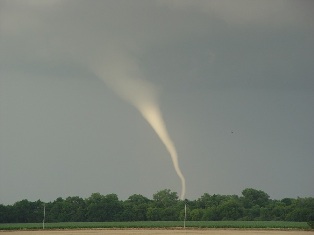 Despite the snow we've seen this April, spring has arrived in Marathon County, and so has severe weather season! This week is Tornado and Severe Weather Awareness Week, and the library has some helpful tips and suggestions to keep you and your family safe.
Remember to Listen, Act, and Live!
Listen
: When severe weather is in your area, listen to a credible source (such as an emergency weather radio) for updates. Continue to monitor until the storm system leaves your area.
Act:
When a tornado warning is issued, seek shelter immediately! If you are in your home, head to your basement if you have one, or look for a room without windows, ideally on the lowest floor and in the center of the building. For most homes without a basement, usually a closet or a bathroom is the safest area. If you are at work, out shopping, or in a public building, follow staff instructions and remain in the designated area of the building until instructed to leave.
Live:
Your chances for survival greatly increase when you listen and act immediately. Do not waste time seeking shelter!
Marathon County Public Library will participate in a county-wide tornado drill on Thursday, April 24th, at 1:45 pm. Patrons in the library during this time will be asked to follow staff to the basement for shelter, or patrons may choose to leave the library until the drill is finished. No patrons will be allowed on the first and second levels of the library during the drill. Thank you to the Marathon County Emergency Management team for the helpful tips!
For more information about tornado and severe weather safety:
Marathon County Emergency Management
Tornado information from Ready.gov
Weather.com's Severe Weather
{{2014-05-15}}
Categories:
Weather
,
Government Information