---
The MCPL Blog
News and updates from the Marathon County Public Library.
Subscribe
to receive blog updates by email.
MARCH 25, 2014
Celebrate National Library Week!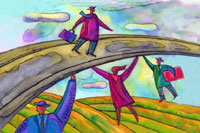 National Library Week (NLW) is upon us, and it's more than a chance to celebrate all that your library means to you (although we are grateful for your appreciation).
This year's NLW theme is "Lives Change @ Your Library," and we've scheduled a number of events through the week, which runs April 13 to April 19. From something as simple as obtaining a passport to hearing about environmentally friendly travel to Randy Peterson's "Big Dreams Begin with Books," we have programs that could change your life. We know that's a bold statement, but part of our mission is to provide materials, programming and assistance that make a big difference in the lives of our patrons and in our communities.
Maybe we've already helped change your life in some positive way, and we can't guarantee we'll do so in the future. But National Library Week is a time for all of us to celebrate the importance of libraries across the country.
National Library Week events:
www.mcpl.us/nlw