---
The MCPL Blog
News and updates from the Marathon County Public Library.
Subscribe
to receive blog updates by email.
AUGUST 12, 2013
Antiques Roadshow...Coming Soon!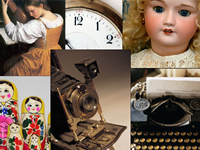 The Antiques Roadshow program has proven to be wildly popular with Marathon County Public Library customers. The program hosted by the Headquarters Library earlier this year was so successful that MCPL is bringing antiques expert Mark Moran back for one last round of appraisals in 2013.
On Sunday September 22 from 1:30-4:00pm, Mark Moran will be available to evaluate items brought in by the public. The fee for appraisal is $10.00 per item which entitles the person to a four-minute consultation. Registration, as always, is required. Call 261-7234 to save your spots or for more information.
Category:
Antiques