---
The MCPL Blog
News and updates from the Marathon County Public Library.
Subscribe
to receive blog updates by email.
JULY 22, 2013
Update: Summer Library Program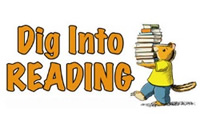 There's still time to participate!
Summer events
continue throughout August, featuring engaging, informative presentations and activities for all ages. Upcoming events include movie nights, workshops, crafts and a pool party!
Also, adults and teens still have time to vote in our
Literary Smackdown
competition to pick the most influential book in Marathon County:
www.mcpl.us/smackdown
.
Reading logs
for children and teens will be accepted through Aug. 24. Prizes are available throughout the summer for completing each excavation dig!
www.mcpl.us/slp
(from the
MCPL Newsletter, Jul-Sep., 2013
)
Categories:
Summer Library Program
,
Children
,
Newsletter