---
The MCPL Blog
News and updates from the Marathon County Public Library.
Subscribe
to receive blog updates by email.
JULY 1, 2013
July Volunteer of the Month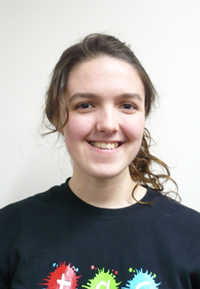 Congratulations to Abigail Hoyt, Marathon County Public Library's July Volunteer of the Month! Abigail has been volunteering at the Wausau Headquarters for about one and a half years and is currently president of MCPL's Teen Advisory Group.
"I love the library and I know a lot of work goes into running it," says Abigail about why she volunteers. "Volunteering is how I can help get things done. Plus, who doesn't like being around that many books?" At the library, Abigail enjoys die-cutting, pulling books, and working on the Little Free Libraries project. Abigail is interested in reading, writing, horseback riding and swimming. She is a graduated senior, a lifeguard, and swim instructor.
Thank you, Abigail, for all of your hard work and dedication to Marathon County Public Library.
{{2013-7-31}}