---
The MCPL Blog
News and updates from the Marathon County Public Library.
Subscribe
to receive blog updates by email.
MAY 29, 2013
New meeting room and study rooms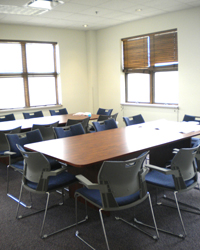 MCPL Wausau
is opening two new study rooms with room for six and 10 people, as well as a meeting room for 20 to 22 people. The study rooms are available for two hours at a time. The meeting room schedule is more flexible. We hope college students, non-profit groups and others will use these spaces for educational purposes – office hours or use of the room for entertainment is not allowed – and Wi-Fi and teleconferencing is available.
Our eight branch locations also have study or meeting spaces available, either within their walls or within the municipal buildings in which the libraries are housed. These rooms, varying in size, offer our communities a secluded space when a coffee shop is a little too busy or you need a central location for your group to gather.
For room policies and reservation request forms, call any MCPL location or go online to
www.mcpl.us/services/meetingrooms
.
(from the
MCPL Newsletter, May-July, 2013
)