---
The MCPL Blog
News and updates from the Marathon County Public Library.
Subscribe
to receive blog updates by email.
MARCH 9, 2013
Times are a'changing on the second floor!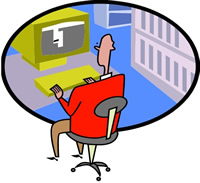 Library patrons may have noticed some changes on the second floor of the Wausau Headquarters. These changes reflect the library's drive to present the most up-to-date collection possible and also offer an inviting atmosphere to library users.
The library recently began a system-wide project to reduce the number of outdated, worn-out or otherwise unneeded books. Some of those titles were sold during the Friends of the Marathon County Public Library's book sales, while others were recycled or resold.
We're sad to lose some items that were with us for so long, but we also want to be realistic about the current and future wants and needs of library patrons. That means offering not only the most current information in print, but also directing patrons to helpful online resources.
We also want to provide patrons with more room to read or use their own computer or tablet. Along with weeding out the older books, we're removing empty shelves to free up space for lounge and study areas. Expect to see new tables and chairs in the near future, as well as laptop desks.
As always, we welcome your comments on these or any other changes.
(from the
MCPL Newsletter, March - May, 2013
)