---
The MCPL Blog
News and updates from the Marathon County Public Library.
Subscribe
to receive blog updates by email.
DECEMBER 5, 2012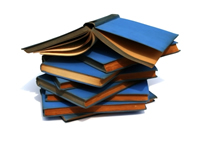 Due to the holiday season, Marathon County Public Library will have a break in story times. No need to worry though, Book Bundles are here! By checking out a Book Bundle, you can put on an educational story time for your children at home.
Each Book Bundle has a set of three themed books and an accessory sheet. The accessory sheets have suggested songs, fingerplays, and early literacy activities that match the theme of the books. Some themes we have include "Bears and Hibernation," "Winter Wonderland," "Under the Sea," and many more.
Book Bundles are currently located near the picture books and "favorite characters" shelf in the Wausau Children's Department. Simply pick out a theme and check it out at the Children's Desk. We ask that you return the three books and accessory sheet to the Children's Desk as well.
Storytimes will resume in January, but until then keep your children excited about reading and learning with Book Bundles!
{{2013-01-01}}