---
The MCPL Blog
News and updates from the Marathon County Public Library.
Subscribe
to receive blog updates by email.
NOVEMBER 16, 2012
Buying an E-reader or Tablet?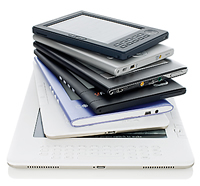 E-readers and tablets are among the most-wished-for gifts this holiday season. Don't forget that your library card can connect these devices to thousands of free e-books and audio books thanks to Wisconsin's Digital Library (a.k.a. "OverDrive")!
Choosing which device will best suit your needs can be challenging, and while we can't tell you which is "the best," we can describe the different borrowing experiences for most devices and refer you to product review sources to help you reach a decision.
Just call 715-261-7230, email us or visit www.mcpl.us/overdrive, and we'll help you get started.

There also is an online device compatibility guide at www.overdrive.com/resources/drc.
(from the
MCPL Newsletter, Nov. 2012-Jan. 2013
)



{{2012-12-31}}