---
The MCPL Blog
News and updates from the Marathon County Public Library.
Subscribe
to receive blog updates by email.
OCTOBER 31, 2012
NOOK makes borrowing library e-books even easier!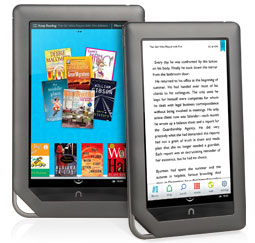 Finally, owners of NOOK Color, NOOK HD and NOOK Tablet are able to download e-books and audio books directly onto their e-readers using the free OverDrive Media Console app!

This app bypasses the need to first download these files onto a computer and upload them to an e-reader using a USB cord, making these e-readers an ideal stand-alone solutions for accessing library books on the go.
This app may be found by searching for "OverDrive Media Console" in the NOOK Store from these devices.

Once it is installed, open the app and choose the "Get Books" option. Next, choose your library ("Marathon County Public Library" or "Wisconsin Public Library Consortium") and input your 14-digit library barcode number. When appropirate, the app will ask for your Adobe ID. (If you don't have one yet, you will be given the option to create one.) After that, you will be free to browse and download e-books and audiobooks as you please!
The OverDrive app also is available for accessing library materials on many Android and Apple iOS-based smart phones and tablets. For a complete list of compatible devices, visit
www.overdrive.com/resources/drc
.
To read more about using your library card to access e-books and audio books, visit
www.mcpl.us/overdrive
.
--
For the official press release announcing this improvement, visit www.overdrive.com/news/OverDrive-App-for-NOOK-Makes-Library-eBook-Borrowing-Even-Easier

{{2013-01-20}}