---
The MCPL Blog
News and updates from the Marathon County Public Library.
Subscribe
to receive blog updates by email.
SEPTEMBER 18, 2012
Check out the Tween Scene!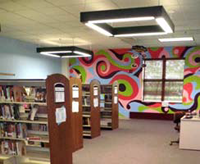 A special area with books, computers and resources for kids in grades 3-5.

With the ongoing success of TeenZone and further improvements in the Children's Department, the Wausau library is developing an area and programming for members of an age group who often feel left out: tweens.

Tweens are in that awkward time of life when they are no longer just children, but not quite teenagers. We've defined them as 'children in third, fourth or fifth grade.'

The Tween Scene features colorful artwork, a carefully selected collection of books, computers, funky furniture and a gaming station. Our goal is to provide a safe and engaging place for tweens to read, do homework, play games or just relax.

Next time you are at the Wausau library, check out the Tween Scene! It's on the first floor in the southwest corner of the Children's Department.
(from the
MCPL Newsletter, Sept.-Nov. 2012
)
Categories:
Children
,
Newsletter