---
The MCPL Blog
News and updates from the Marathon County Public Library.
Subscribe
to receive blog updates by email.
SEPTEMBER 18, 2012
Check out MCPL's new app!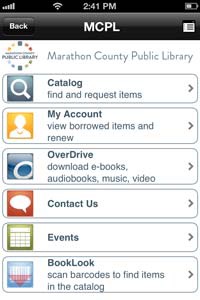 Access the catalog and resources from your mobile device.


Smart phone and tablet users can finally download a free mobile application and browse the library's collection on the go!

Search for books, ebooks, DVDs, CDs and video games; request and renew items; browse our newest titles; locate our branch libraries and check out current events. You also can follow our blogs, Facebook and Twitter streams or contact us.

Compatible devices include:
Apple's iPhone, iPad and iPod Touch
Google Android-based smart phones and tablets
Kindle Fire tablets
Categories:
technology
,
Newsletter
Comments
Sarah P. said, on Oct. 10 at 9:00AM
Hi- I just wanted to say thank you so much to everyone at MCPL! I was so thrilled yesterday when I went on to the mcpl site to request a book and found that there was an actual app. for my Android Samsung SII! I instantly downloaded it and began using it and had no problems whatsoever! I use my phone for reading alot, so now when I'm out of town or just waiting for the kids at school I can either request book's, read or just relax using this wonderful app! Thank you again for creating this, I will be telling everyone I know that they have to get this app! Sincerely, Sarah L. Pagel
Kelly K said, on Oct. 13 at 2:00PM
Awesome idea! Way to keep up with technology and offer your patrons this option! THUMBS UP!