---
The MCPL Blog
News and updates from the Marathon County Public Library.
Subscribe
to receive blog updates by email.
AUGUST 24, 2012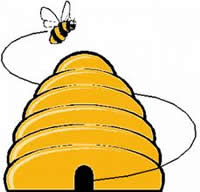 What's all the Bzzzz about? BeeHive Books in the Tween Scene! Are you looking for a good book to read and don't know where to start? We suggest trying a book with a beehive on the spine. If you are a kid who typically doesn't like to read, there is a good chance you will like these books. BeeHive books have an attractive appearance, clear vocabulary, a high interest hook within the first 10 pages, well-defined characters, humor and an interesting, action packed plot. Ask at the Wausau Library Children's Desk for more information or start looking for a BeeHive book only found in the Tween Scene.
Categories:
Books
,
Reading
,
Children