---
The MCPL Blog
News and updates from the Marathon County Public Library.
Subscribe
to receive blog updates by email.
FEBRUARY 6, 2012
Treasures in the Attic: Find Out What They're Worth!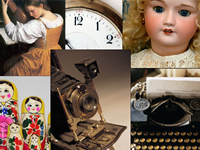 Most everyone has some treasured trinket or artifact tucked away in a drawer or housed up in the attic. It could be a childhood toy. Or a heirloom handed down from past generations. Or a souvenir your grand-dad brought home from World War II. Ever wonder if that item might be worth big bucks? Well, here's your chance to find out!
On Saturday March 10th, the Marathon County Public Library will be hosting
What's It Worth; the Antiques Appraisal Roadshow
. Antiques expert Mark Moran will be on hand to evaluate and appraise such items as toys, clocks, costume jewelry, vintage photographs and glassware. Certain items will not be appraised.
Moran has been senior editor of antiques and collectibles for Krause Publications and co-authored over 25 antiques-related books. He's been an appraiser for 25 years.
Moran will be available from 9:00 to 12:00 and 1:00 to 4:00. The cost is $10.00 per item. That fee entitles the person to a four-minute consultation. Each additional item is $10.00 and, in turn, an additional four minutes.
Registration is
required
. Call (715) 261-7234 to register or for additional information.
If you don't have an item, you can sit in on the fun. Spectators are welcome.
So, dig out those family treasures and sign up for
What's It Worth; the Antiques Appraisal Roadshow
with Mark Moran. It promises to be an entertaining, educational and, possibly, very profitable program. See you there!
{{2012-03-10}}